Part 1. How to Know If Someone is on a WhatsApp Call
There are a few different ways and options you have if you're wondering how to know someone is busy on a WhatsApp call, some of them more discrete than others.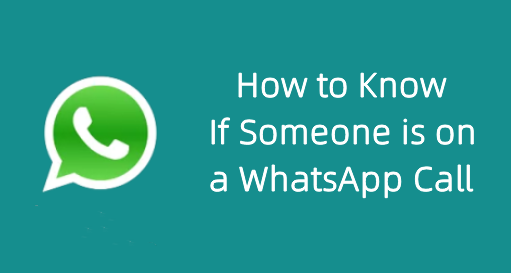 Way 1: How to Know If Someone is on a WhatsApp Call with Calling
If your question is: "how to check if someone is on WhatsApp call?", the simplest answer is: by calling them. If you call someone on WhatsApp while they're in the middle of another call, WhatsApp will notify you of that.
While quick and easy, it isn't the most discreet way. The person you tried to reach will still receive your call, which is helpful if you wish for them to call you back as soon as possible. But, if you don't wish to bother them and simply want to see if they are available at that moment, this way might not be the most helpful.
Way 2: How to Know If Someone Is on a WhatsApp Call Without Calling
If you'd like to find out if someone is busy on another call without notifying them, there are a few different options you have to find out if they're available.
1. Use FamiKeep to Track WhatsApp Calls
FamiKeep for WhatsApp is a monitor app that lets you see someone's activity on WhatsApp in a stealthy way. FamilKeep gives you lots of insights into the person's activity, including who they're talking to, the contents of their chats (including media and voice notes). What makes FamilKeep great, aside from its useful tracking features, is how secretive it it. The app you'll install on the target phone will either be hidden or disguised as "System Service".
It's a great option if you'd like to find out how to know if someone is talking on a WhatsApp call. With FamilKeep you'll have access to their call records and chats, so you'll be able to see if they're planning a call or if they've been on one through online dashboard.
Here's how to use FamilKeep:
Step 1 Register an account with FamilKeep for free.

Step 2 Install FamilKeep on the device and set up the required phone permissions.

Step 3 Start monitoring the device from your account on the FamilKeep website.
Check out the guide on using FamilKeep for more details on how it can help you know if someone is busy on a WhatsApp call.
2. Guess from their online or last-seen status
If you want to know how to check if a WhatsApp call is busy without calling, you can put on your detective hat and try to decide based on clues that WhatsApp gives you. For example, if a person has been online for a long time but isn't opening the last messages you sent them, they might be on another call.
Similarly, you can use their "Last Seen" status to determine their availability. Suppose their status suggests that they haven't been online for longer than usual and, again, they haven't seen your messages. In that case, chances are they're busy on another call.